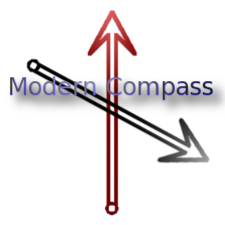 Modern compass
This compass does what the compass always was intended to do, it helps you locate the destination of your choice.
Using the GPS and Google maps, this application let you mark a destination of choice and then shows in what direction that destination lies, as well as how far away it is from your current location.
The red arrow points to the north, while the black arrow points to the destination. (The black arrow will not appear until you have selected target destination and the GPS system has located your current location.)
To calibrate the compass, turn the phone around in all directions. Holding the phone in your hand and tracing out an eight in front of you will do.
QR code linking to the android market